Wedding Vendors and Trends at The Florida Bridal Expo
Find Your Wedding Vendors in One Place
I visited The Florida Bridal Expo in Gainesville, Florida. Fifty wedding vendors display the latest in wedding trends for newly engaged couples. This event or any other wedding expo is a great opportunity to find wedding vendors in your area - from dress boutiques and venues to florists, DJs, makeup artists and more!
If you love efficiency, like me, you'll appreciate the convenience of finding all of the wedding vendors in one place. You could easily book all of your vendors in one day! Having a destination wedding? It can be hard to find vendors in a place you don't live. Find a bridal expo in the area you are getting married and plan a trip to attend and meet vendors.
While browsing around the expo, I spoke with a few wedding vendors and talked about current trends. Here are a few highlights I wanted to share with you.
Trends in Wedding Venues
The biggest trend in weddings is the rustic farm look. The Blues Farm showcased the most beautiful decor to feature their rustic farm wedding venue. This 100 acre blueberry farm is perfect to channel your inner Joanna Gaines!
Looking for a more modern venue? Hotels typically offer a more modern decor. DoubleTree by Hilton recently opened their newest property in Gainesville. With several different event spaces available, you can choose whichever works best for the size of your guest list and wallet. Hotels also offer highly trained staff that can ensure your wedding goes smoothly.
Trends in Wedding Design
Keith Watson Productions is the premiere event design company in Gainesville. They had a lovely table arrangement setup featuring crisp white florals paired with bright orchids and sparkling sequin linens. Speaking to their floral designer and event coordinators, they noted that textures are a rising trend in wedding design. Velvet and embroidery are joining the ever-popular metallics to add a unique look.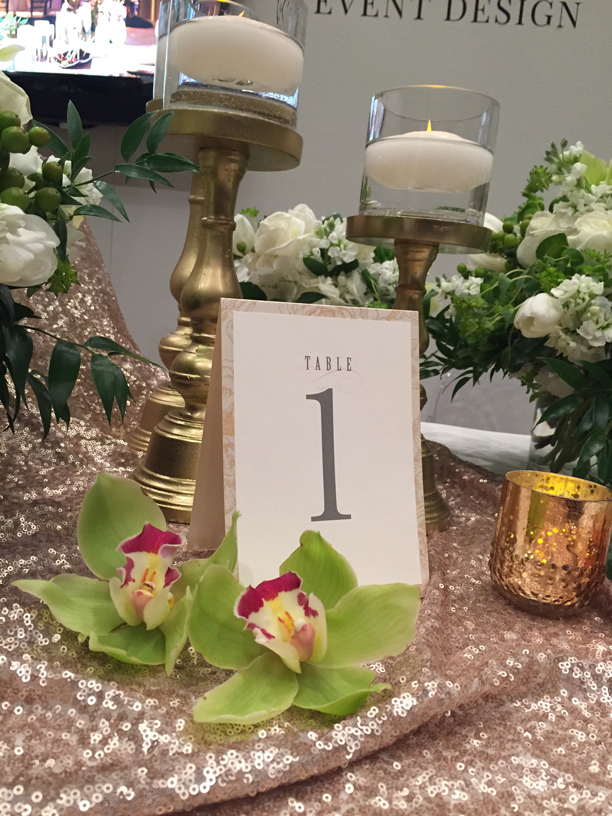 In addition to full-service event design groups, rental companies offer an array of design elements. The Event Group is a new rental company in Gainesville. Tents, tables, and table tops - oh my! Rental companies are a great resource if you are hosting an outdoor wedding or a bare-bones venue. The Event Group can use a software program to help you layout your event space to ensure all of your guests will fit comfortably in your venue.
Wedding Trends in Sweets
Cakes and cupcakes are a staple at weddings. But have you ever thought of popsicles? The Hyppo Gourmet Ice Pops offers 450 flavors of hand-made popsicles. Hailing from Saint Augustine (where I got married!), The Hyppo is a local favorite on hot summer days or a Florida winter day of 70 degrees.
Hyppo Packages are perfect for weddings! A unique sweet treat for your guests to enjoy at an affordable price. If there isn't a Hyppo near you, look for other local treats to add on your wedding day.
There are so many other amazing wedding vendors in the Gainesville area. Keep your eyes out for a bridal expo in your area to meet professionals that can add to your special day.
~Lori
Found a great wedding vendor you would recommend to others? Share in the comments!